So, Paperback Patronus, where have you been?!?!
Good question.
Since I started book blogging, I've never been away for this long!
It's been about three weeks since I last posted, and a lot has happened since then (and a lot of reading)!!
Unsurprisingly, I'm behind on my reviews. So first, I'd like to give you a list of what's for sure coming up on the blog in the next couple of weeks!
Quiet Girl in a Noisy World – Debbie Tung
A Court of Thorns and Roses – Sara J.  Maas
whiskey words & a shovel volumes I-III – R. H. Sin
Dear Ijeawele, Or a Feminist Manifesto in Fifteen Suggestions – Chimamanda Ngozi Adichie
Commonwealth – Ann Patchett
Lily and the Octopus – Steven Rowley
A Darker Shade of Magic – V. E. Schwab
From the Mixed-Up Files of Mrs Basil E. Frankweiler – E. L. Konigsburg
In a Dark, Dark Wood – Ruth Ware
Talking as Fast as I Can – Lauren Graham
I'll Give You the Sun – Jandy Nelson
Yes, I've read that many books since I last posted!! More on that soon!
Now,
where have you been
?
Short answer: reading!
Long answer: I have been hunkered down in a partly SAD-induced hibernation period (as much as is possible when you have a full-time job). It's now day 24 in a row here in Vancouver that it has rained. It has been dark, grey, and sad. I have generalized anxiety disorder and am very prone to depression in the winter, commonly known as Seasonal Affective Disorder. The way it manifests itself for me is usually the following: I essentially wake up in the morning, struggle to get out of bed, head to work, do my day, and then head home. I go for my run, get soaked in the rain and come home feeling like a drowned rat (although it does help my mood). Hot shower, snack, and then bam! I'm in my pj's, back in bed with a coffee and a book.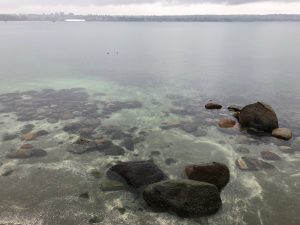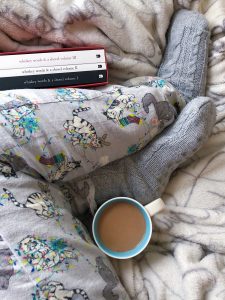 Thanks to SAD…
My reading hibernation has done wonders for my TBR pile. I'm definitely not complaining about that! But I have been much less motivated and enthusiastic than usual about my job, my activities, and life in general. This too shall pass, but I'd like the sun to come out sooner rather than later, thanks!
On a happier note, my next post will be my January Wrap-Up, where I'll be detailing the twenty-three books I read in last month. That's right, 23!! Proud reader, right here. 
But I just haven't been wanting to sit up and write on my laptop about reading. I just want to read!!!
There's another thing that did wonders for my TBR pile, and that's what I'm going to tell you about next!
I participated in my first read-a-thon in January, and loved it. So, when I discovered the 24in48 read-a-thon and realized it would  be happening in January, I had to sign up! The premise is that in a period of 48 hours, you try to read for 24 hours, which is no small feat.
They have lots of challenges running through their website, and you can win prizes if you take part. You can also win rewards if you read for 24 hours!
I had a busy weekend planned for the weekend of this read-a-thon, so my goal was simply to read as much as possible, knowing that it was unlikely that I would achieve 24 hours of reading. In the end, I made it to just over 13 hours! Not too shabby. The next one that they're running will be in July, so I'm hoping to take part in that one and beat my current record of 13 hours.
Finally…
Soon, in another post, I'll be talking about The Unread Shelf Project, which is something that has really improved my reading and Bookstagram experience this year!
Stay tuned, and happy reading!
Alongside the post about The Unread Shelf Project, I've got tons of blog posts lined up and coming soon!
– Paperback Patronus
(Visited 135 times, 1 visits today)