Whiskey, Words, & a Shovel is a three-volume boxed-set of poetry books by R. H. Sin.
I love poetry. And I picked this up because someone I follow on Bookstagram posted a photo of one of the poems and I immediately fell in love. It didn't hurt that over Boxing Week Indigo had a 50% off boxed sets sale. I love a bargain!
Here's what the set looks like: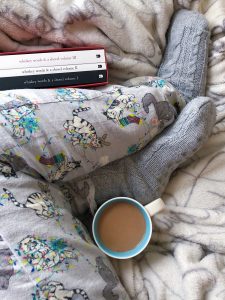 I love the design of the spines, but it bothers me that it's black-white-white.
And here is the synopsis of Whiskey, Words, & a Shovel from Amazon:
"Whiskey, Words, and a Shovel, Vol. 1, is about reclaiming your power on the path to a healthy relationship. It is a testament to choosing to love yourself, even if it means heartbreak."
Finally, here's my review of Whiskey, Words, & a Shovel!
I'm going to have to do sort of separate reviews for a) volume I, and b) volumes II & III.
First up, volume I!
This was an absolutely beautiful collection of poems. Some were crushing, some uplifting. I tend to judge poetry based on how many gut checks/pangs/heart drops I feel, and this book was chock-full.
It's clear that the author has had some very difficult experiences, and he doesn't shy away from confronting them head on with his words. I loved it.
Favourite poems from this volume:
good book.
therapy by the books.
some suggestions.
Next, volumes II & III.
Unfortunately, I didn't think the other two volumes of Whiskey, Words, & a Shovel were as amazing as the first.
A lot of it felt very preachy, as if the author (a male) is trying to tell his readers (which he assumes are women) lessons. It kind of feels like in volume I, the poet is learning heartbreaking lessons through the writing of his poetry, whereas in volumes II & III, he's learned the lessons but feels the need to impart them on everyone else. It feels contrived and far less heartfelt.
Overall, 3/5 stars for Whiskey, Words, & a Shovel.
I would say 4 stars for volume I, and 2 for volumes II & III. Maybe just borrow the first volume from the library, because it is amazing and well worth a read.
Happy reading!
– Paperback Patronus