This July, I had my second best reading month of 2018 (and probably ever). In January, my best reading month, I read 23 books. This month, I read 21 hard copy books, and 1 audiobook!
Goodreads tells me that I've read 86 books so far this year. That's 78% of my total target of 110 books for the year. Last year, my target was 100 books and I read 105, which is why I set my target at 110 this year. It's looking like I'm going to smash everything out of the park! However, I am starting grad school in September so I have literally zero expectations for the last four months of this year.
So, here it is, my July Wrap-Up!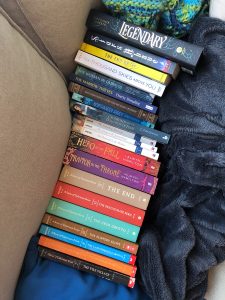 Crossroads and the Dominion of Four – C. Toni Graham  ⭐⭐⭐⭐
The Vile Village – Lemony Snicket ⭐⭐⭐⭐
The Marrow Thieves – Cherie Dimaline ⭐⭐⭐⭐⭐
The Hostile Hospital – Lemony Snicket ⭐⭐⭐⭐
The Carnivorous Carnival – Lemony Snicket ⭐⭐⭐⭐
The Slippery Slope – Lemony Snicket ⭐⭐⭐⭐⭐
The Grim Grotto – Lemony Snicket ⭐⭐⭐⭐⭐
The Penultimate Peril – Lemony Snicket ⭐⭐⭐⭐
The End – Lemony Snicket ⭐⭐⭐⭐⭐
The End of Oz – Danielle Paige ⭐⭐⭐⭐⭐
Legendary – Stephanie Garber ⭐⭐⭐⭐⭐
Stars Above – Marissa Meyer ⭐⭐⭐⭐⭐
Traitor to the Throne – Alwyn Hamilton ⭐⭐⭐⭐⭐
Ten Thousand Skies Above You – Claudia Gray ⭐⭐⭐⭐⭐
All the Bright Places – Jennifer Niven ⭐⭐⭐⭐
Northanger Abbey – Jane Austen ⭐⭐⭐⭐⭐
The Diamond in the Window – Jane Langton ⭐⭐⭐
Miss Peregrine's Home for Peculiar Children – Ransom Riggs ⭐⭐⭐⭐⭐
Hero at the Fall – Alwyn Hamilton ⭐⭐⭐⭐⭐
Crazy Rich Asians (audiobook) – Kevin Kwan ⭐⭐⭐⭐
The Swing in the Summerhouse – Jane Langton ⭐⭐⭐
The Woman in Cabin 10 – Ruth Ware ⭐⭐⭐⭐
The Astonishing Stereoscope – Jane Langton ⭐⭐⭐
Again, that's a total of 22 books!
Did I Meet My TBR Expectations?
I actually didn't set a TBR this month. From March – June this year I really slumped, so I decided just to mood read for July. I have to say, it went pretty well for me! But I'm definitely getting back on the TBR train for August. That will be my next post!
The Unread Shelf Project 2018 July Challenge
Over at theunreadshelf, the July challenge was called "Finish That Series." I have a ton of unfinished series on my unread shelf, so I took that challenge to heart. The result was that only three books that I read this month were not a part of a series!
Notable Reads This Month
Overall, my favourite books of this month were Hero at the Fall, Legendary, and The Marrow Thieves. Shoutout to The Marrow Thieves for being awesome CanLit. I met Cherie Dimaline because she did an author talk at my work, and she's rad. Plus, shoutout to Miss Peregrine's Home for Peculiar Children for being really unique and creative, because I loved reading about Riggs' project with the found photos that inspired the story.
As for ratings, this month was quite high!
What's Next?
I'm off work for August just like I was for July, so I'm setting myself an ambitious TBR. I'm also planning to continue catching up on reviews, so look out for those on here!
Happy reading!
– Paperback Patronus
(Visited 237 times, 1 visits today)