This is my first blog Book Haul post, so here's the deal:
Bookstagram members are, once again, likely pretty familiar with these. However, for those of you who aren't, any time we get books in the mail, which we call Book Mail, we like to share what we've gotten. Usually, if it's at the end of the month,  or for a particular event or time period (like Black Friday or Boxing Week), we call it a Haul.
So, without further ado, here's my Boxing Week Book Haul, which I'm over the moon about!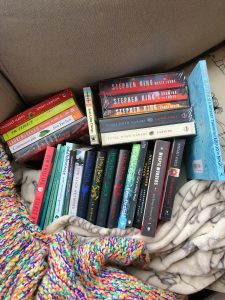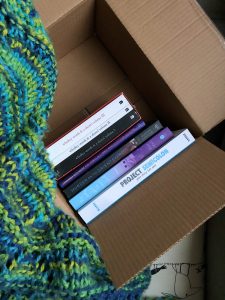 It was so big, it came in three different packages, the last of which arrived Monday this week.
Now, here's a list of all the titles and links to their Amazon pages (and my blog reviews, if they're up already):
Dark Tower 1-3 Boxed Set – Stephen King
Sapiens & Homo Deus Boxed Set – Yuval Noah Harari
Journey Through A History of Magic – British Library
Just Little Things – Nancy Vu
Furiously Happy – Jenny Lawson
The Female of the Species – Mindy McGinnis
Talking as Fast as I Can – Lauren Graham
Commonwealth – Ann Patchett
A Court of Thorns and Roses – Sara J.  Maas
Fierce Kingdom – Gin Phillips
Helium – Rudy Francisco
Depression & Other Magic Tricks –
Our Numbered Days – Neil Hilborn
Adultolescence – Gabbie Hanna
Chasers of the Light – Tyler Knott Gregson
The Alice Network – Kate Quinn
Harry Potter and the Philosopher's Stone (Hardcover House Editions) – J. K. Rowling
The Child Finder – Rene Denfield
Quiet Girl in a Noisy World – Debbie Tung
Astrophysics for People in a Hurry – Neil deGrasse Tyson
Magpie Murders – Anthony Horowitz
The Handmaid's Tale – Margaret Atwood
whiskey words & a shovel volumes I-III – R. H. Sin
Dear Ijeawele, Or a Feminist Manifesto in Fifteen Suggestions – Chimamanda Ngozi Adichie
Murder on the Orient Express – Agatha Christie
My Lovely Wife in the Psych Ward – Mark Lukach
Project Semicolon: Your Story Isn't Over – Bleuel
Evidently, I dove into this haul pretty quickly!
I have already read Dear Ijeawele…, Astrophysics for People in a Hurry, whiskey words & a shovel I, Quiet Girl in a Noisy World, Adultolescence, Helium, Our Numbered Days, Depression & Other Magic Tricks, Chasers of the Light, Just Little Things, and Journey Through A History of Magic. Phew!
I think that the next book I'll be reading from this haul is The Child Finder. It's been all over Bookstagram, and I'm in the mood for a bit of suspense.
Finally, other things I'm really excited about:
I've never read any Stephen King before. However, I saw the Dark Tower movie and really enjoyed (a lot to do with Idris Elba, but also to do with the storyline!), so I think the Dark Tower books might be my gateway into reading Stephen King!
Also, I've never read any Agatha Christie books either. I didn't particularly want to see the movie, because it wasn't rated very highly. And it has Johnny Depp in it. But the story really intrigued me, so I'm excited to read the book! Maybe it will make me want to read more Christie mysteries, too!
Now that I've shared this with you, I'm off to start a reading-filled weekend!
Happy reading!
– Paperback Patronus