Disclaimer: I received this book as a generous gift from the author herself, Tehmina Khan, in exchange for an honest review. This gift in no way influences my opinion or review.
Things She Could Never Have by Tehmina Khan is a collection of short stories.
It came into my life at the perfect time. I'm starting to think more critically about the types of books I have on my shelves. This is especially in terms of diversity. The founder of @theunreadshelf project on Bookstagram set a February challenge of reading and talking about more diverse books. When this happened, I had just received Things She Could Never Have for review.
Here's the beautiful cover of this book: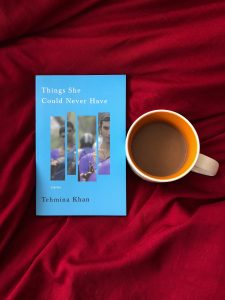 I love how creative it is!
And here is the synopsis of Things She Could Never Have from Amazon:
"Accomplished, sensitive, and often disturbing, these stories take us into the lives of modern Pakistanis?privileged and poor, gay, trans, and straight, men and women, in Karachi and Toronto. "Whisperings of the Devil" takes us into the mind of a mistreated maidservant's boy who gets seduced into the role of a suicide bomber. In "To Allah We Pray," two privileged and educated young men, one of them home from Toronto, gallivant through the streets of Karachi, finally walking into a doomed mosque.
"Things She Could Never Have" is a love story about two young trans women living in Karachi. "Born on the First of July" opens the door into the home of a Toronto girl who has left to join ISIS and the devastated family she leaves behind. "The First" will astonish many readers by its depiction of sexual encounters of young college girls in Pakistan. These and other stories link us into the complexities of a sometimes troubled and often misrepresented Muslim society."
Finally, here's my review of Things She Could Never Have!
Traditionally, I haven't been a fan of short stories. Normally this is because I find they make me angry. My whole life, I've battled with my own preconceptions that literature shouldn't make you angry. I am a person who likes the plot of stories to be tightly tied in a bow at the end, à la "and they both lived happily ever after." Normally, I find that short stories purposely subvert that narrative trope, and I don't usually enjoy it. This opinion has not changed since reading Things. However,  Tehmina Khan's stories made me angry, sad, happy, and thoughtful, and frustrated, and I LOVED IT.
These stories are well-curated windows into worlds I have very little knowledge or understanding of. They are each about modern Pakistanis. They are set both in Karachi and Toronto. The characters encounter difficulties I have never had to even imagine, and they do it with grace and resilience. The language is poetic and illuminating. It opened my eyes to whole other perspectives and experiences. It was magical.
Other awesome stuff:
Some of the stories' plots connect. I LOVE it when short story collections do this. In this case, it's never overt. I don't want to give away any spoilers, but I love the delicate way in which some of the narratives end up being about the same characters, in small but important ways.
Overall, 4.5/5 stars.
Some of the phrasing felt a little confusing at times. I also wanted a bit more depth in some of the stories. However, those are small things. Overall, I LOVED these incredibly heartfelt, shocking, and heartbreaking stories of love, life, and loss. It is a collection full of diverse stories. Racially, sexually, religiously, in terms of class and gender, and more. It left me wanting so much more. Plus, the author is a Canadian female POC, and she is originally from Karachi, Pakistan. I highly recommend reading this book!
Happy reading!
– Paperback Patronus