This August, I had a bit of a slow reading month. I'm usually able to read a lot in the summer because as a teacher, I'm off work. However, my husband and I spent over half the month travelling, and I tend to read far less when I'm away on vacation. This month, I read 6 books. A Court of Mist and Fury was quite long, so just finishing that was an accomplishment I think!
Here it is, my August Wrap-Up!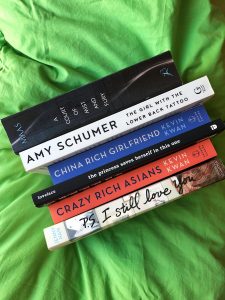 The Girl with the Lower Back Tattoo – Amy Schumer  ⭐⭐⭐⭐
Precious Cargo – Craig Davidson ⭐⭐⭐⭐⭐
A Court of Mist and Fury – Sarah J. Maas ⭐⭐⭐⭐
P.S. I Still Love You – Jenny Han ⭐⭐⭐⭐
The Princess Saves Herself in This One – Amanda Lovelace ⭐⭐⭐⭐⭐
China Rich Girlfriend – Kevin Kwan ⭐⭐⭐⭐
That comes in at a total of 6 books 🙂
Did I Meet My TBR Expectations?
I set a giant August TBR, which I planned to mood read from. Then, I ended up having to make an Indigo order for a textbook for one of my grad school courses. Naturally, once the order came, I was more interested in those new books than in the ones I had put on my TBR. I also didn't read as many books as I'd hoped, but that was mostly due to travelling, not motivation, thankfully.
The Unread Shelf Project 2018 July Challenge
Over at theunreadshelf, the July challenge was to have your friends on Bookstagram choose your first read of the month. The votes were overwhelmingly for A Court of Mist and Fury. I decided to finish reading The Girl with the Lower Back Tattoo, which I started at the end of July, first. Then I dove straight into ACOMAF!
Notable Reads This Month
Overall, my favourite book of this month was The Princess Saves Herself in This One. I always have a soft spot in my heart for poetry books, especially ones as creative and unique as this one. Shoutout to Precious Cargo for being awesome and for being CanLit.
As for ratings, they were all pretty great!
What's Next?
I started grad school this week and it was also back to work (school). Things are quite busy, so I'm not sure how much reading I'll get done. We'll see!
Happy reading!
– Paperback Patronus