The 24in48 Readathon is a competition/challenge that occurs twice a year. It started in 2015, but I heard about it for the first time back in January, which is when I participated for the first time.
How does 24in28 work?
The basic premise is a challenge to read for a full 24 hours out of a 48-hour period. Officially, the readathon starts at 12:00 AM on Saturday, and ends at 11:59 pm on Sunday, EST. For me, that means official time starts at 9:00 PM on Friday, and ends at 8:59 PM on Sunday, as I'm on PST.
You can track your reading however you want, usually with a timer on your phone or another type of timing device. There's no way for the hosts of the readathon to really check if you actually read the whole 24 hours, but us bibliophiles tend to be pretty honest characters, in my humble, rose-coloured glasses opinion.
But… Why?!
That's a question many people have asked me, including my husband and friends.
My main answer is because it's fun! I love an excuse to read all weekend long without feeling guilty for not doing anything else. Although I will be doing other things – I've got plans to meet a friend who's in Vancouver for a visit with her baby, and the hubs and I have a standing weekend pitch & putt date. It's good to take breaks and move your body!
Also…
The reason you need to time yourself (other than the excitement of a challenge, of course) is that if you manage to read for a full 24 hours, you're eligible for prizes! Us bibliophiles also really love giveaways, including books, bookish merch, and credits to book stores. They also do photo challenges using the hashtag #24in48, which is super fun and helps you to stay engaged with the readathon all weekend long.
Another thing that I find helps me stay engaged with the readathon is to set a TBR. I choose a huge one, just like I do for my monthly TBRS. This helps me stay motivated, and it also gives me a lot of options to mood read from in the event that I get bored or that I am not enjoying a particular book. I do not expect to finish all these books.
So, without further ado, here's my July 2018 24in24 Readathon TBR!
A photo, first: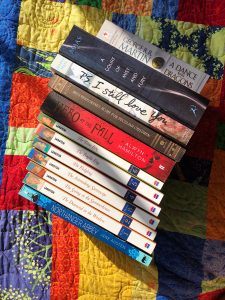 Here's the list:
Northanger Abbey – Jane Austen
The Hall Family Chronicles, Books 1-6 (entire series) – Jane Langton

The Diamond in the Window
The Swing in the Summerhouse
The Astonishing Stereoscope
The Fledgling
The Fragile Flag
The Time Bike

Hero at the Fall – Alwyn Hamilton
Miss Peregrine's Home for Peculiar Children – Ransom Riggs
P.S. I Still Love You – Jenny Han
A Court of Mist and Fury – Stephanie J. Maas
A Dance With Dragons – George R. R. Martin
Last, I'm going to give you a few explanations as to the choices I made in building this stack, as I chose it with a lot of intention and purpose.
My Classics Challenge
This was inspired by Whitney of The Unread Shelf Project 2018. She's been the inspiration for a lot of my reading goals this year, and you'll see another aspect of that later in this post.
Whitney suggested as a challenge during one month this year (March I think?) to choose a book that's been on your unread shelf for a really long time with the target of finishing it by the end of the month, and to give it away if you don't. So, I've been trying do this with my classics, because historically I struggle to read them. My goal is to read one per month, and if I don't finish, I have to give it away. I set a page per day target to help keep me on track. This month's classic is Northanger Abbey, which I'm already about 1/3 of the way through. I decided to add it to my TBR for the readathon to motivate me to finish it.
The Unread Shelf Project July Challenge: Finish That Series
Something that has helped me determine my TBR for July, and for the 24in28 readathon, is Whitney's challenge for July, "Finish That Series." I have a lot of unfinished series. I read 5 books that were part of series on my vacation to Calgary, and now I've added a bunch more to this TBR.
I read Traitor to the Throne (review upcoming) in Calgary, and this weekend I hope to finish the trilogy with Hero at the Fall. I've been majorly putting off finishing Game of Thrones, so that's on there too. I read A Court of Thorns and Roses earlier this year and didn't think it was that amazing, but I've heard the series gets way better as you go, so I picked A Court of Mist and Fury too.
I read To All the Boys I've Loved Before last summer (incidentally, on my vacation to Calgary) and bought the sequel quite soon after but never got around to it. Now is the time! A bit of fluff as a spacer between some of my heavier choices.
I chose Miss Peregrine's because I own the series but haven't started it. Similarly, I chose The Hall Family Chronicles because I read at least the first two books when I was 13 or 14, and then never finished the series, and that cannot stand!
That's it for now!
Let me know if you're participating in the readathon in the comments. Make sure you sign up at the website I linked above to make sure you're eligible for prizes! I'd love to hear what you're planning to read!
Happy reading!
– Paperback Patronus
(Visited 143 times, 1 visits today)