In December my wrap-up was pretty impressive. I read 15 books, which I think was a record for me. Consider that record smashed, in fact, annihilated, this January. Again, I had a week off work just like I did in December, which helped. I also participated in my first read-a-thon, and several of the books were poetry anthologies, but I'm still very proud of coming in hot with 23 books read in the first month of 2018.
Without further ado, here's my January Wrap-Up! Kicking ass and taking names!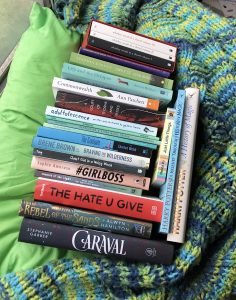 Harry Potter: A History of Magic – The British Library ⭐⭐⭐⭐
Journey Through A History of Magic – British Library ⭐⭐⭐⭐
Caraval  – Stephanie Garber ⭐⭐⭐
Rebel of the Sands – Alwyn Hamilton ⭐⭐⭐⭐⭐
#GIRLBOSS – Sophia Amoruso ⭐⭐⭐⭐
The Hate U Give – Angie Thomas ⭐⭐⭐⭐⭐
Chasers of the Light – Tyler Knott Gregson ⭐⭐⭐
Our Numbered Days – Neil Hilborn ⭐⭐⭐
Helium – Rudy Francisco ⭐⭐⭐⭐
Braving the Wilderness – Brené Brown ⭐⭐
Quiet Girl in a Noisy World – Debbie Tung ⭐⭐⭐⭐⭐
The Graduate – Charles Webb ⭐⭐
Depression & Other Magic Tricks – Sabrina Benaim ⭐⭐⭐
Adultolescence – Gabbie Hanna ⭐⭐⭐⭐
Just Little Things – Nancy Vu ⭐⭐⭐⭐⭐
Astrophysics for People in a Hurry – Neil deGrasse Tyson ⭐⭐⭐⭐
Dear Ijeawele, Or a Feminist Manifesto in Fifteen Suggestions – Chimamanda Ngozi Adichie ⭐⭐⭐⭐⭐
whiskey words & a shovel volume I – R. H. Sin ⭐⭐⭐⭐
whiskey words & a shovel volumes II-III – R. H. Sin ⭐⭐⭐
Station Eleven – Emily St. John Mandel ⭐⭐⭐⭐⭐
Commonwealth – Ann Patchett ⭐⭐⭐⭐
A Court of Thorns and Roses – Sara J.  Maas ⭐⭐⭐
Lily and the Octopus – Steven Rowley ⭐⭐⭐⭐⭐
In total, that's 23 books! Also, I didn't read everything I'd planned, as usual (see my January TBR). However, I did read far more books than I expected!
2018 Challenge:
This year I've set my Goodreads reading challenge goal to 110 books, 10 more than last year's 100, which I beat by 5.
Overall, my favourite books of this month were Station Eleven and The Hate U Give. Shoutout to Lily and the Octopus for also being awesome and making me ugly cry.
Compared to last month, this one was a bit of a mixed bag as far as how much I enjoyed everything I read. It's doing my string of 5-star reviews some good!
Stay tuned for some upcoming reviews, and finally, happy reading!
– Paperback Patronus