Shades of Magic is an adult fiction trilogy by author V. E. Schwab, who also writes as Victoria Schwab for Young Adult readers.
I read the first book in the series, A Darker Shade of Magic, in February.  Books two and three, A Gathering of Shadows and A Conjuring of Light, I consumed while on vacation in Cuba in March.
Here are the synopses and covers of the three books in the Shades of Magic series!
The first book is pretty great as a standalone. However, if you read the second book, you will definitely want to read the third pretty much right away.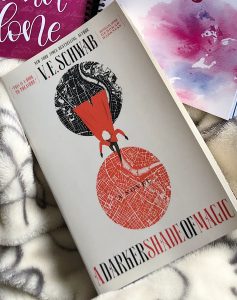 "Kell is one of the last Antari―magicians with a rare, coveted ability to travel between parallel Londons; Red, Grey, White, and, once upon a time, Black.
Kell was raised in Arnes―Red London―and officially serves the Maresh Empire as an ambassador, traveling between the frequent bloody regime changes in White London and the court of George III in the dullest of Londons, the one without any magic left to see.
Unofficially, Kell is a smuggler, servicing people willing to pay for even the smallest glimpses of a world they'll never see. It's a defiant hobby with dangerous consequences, which Kell is now seeing firsthand.
After an exchange goes awry, Kell escapes to Grey London and runs into Delilah Bard, a cut-purse with lofty aspirations. She first robs him, then saves him from a deadly enemy, and finally forces Kell to spirit her to another world for a proper adventure.
Now perilous magic is afoot, and treachery lurks at every turn. To save all of the worlds, they'll first need to stay alive."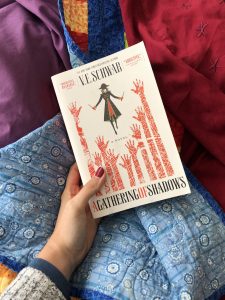 "Four months have passed since the shadow stone fell into Kell's possession. Four months since his path crossed with Delilah Bard. Four months since Rhy was wounded and the Dane twins fell, and the stone was cast with Holland's dying body through the rift, and into Black London.
In many ways, things have almost returned to normal, though Rhy is more sober, and Kell is now plagued by his guilt. Restless, and having given up smuggling, Kell is visited by dreams of ominous magical events, waking only to think of Lila, who disappeared from the docks like she always meant to do. As Red London finalizes preparations for the Element Games-an extravagant international competition of magic, meant to entertain and keep healthy the ties between neighboring countries-a certain pirate ship draws closer, carrying old friends back into port.
But while Red London is caught up in the pageantry and thrills of the Games, another London is coming back to life, and those who were thought to be forever gone have returned. After all, a shadow that was gone in the night reappears in the morning, and so it seems Black London has risen again-and so to keep magic's balance, another London must fall…in V.E. Schwab's A Gathering of Shadows."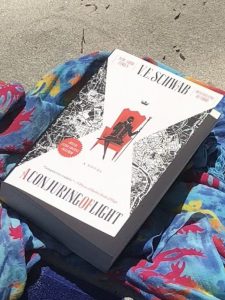 "As darkness sweeps the Maresh Empire, the once precarious balance of power among the four Londons has reached its breaking point.
In the wake of tragedy, Kell―once assumed to be the last surviving Antari―begins to waver under the pressure of competing loyalties. Lila Bard, once a commonplace―but never common―thief, has survived and flourished through a series of magical trials. But now she must learn to control the magic, before it bleeds her dry.
An ancient enemy returns to claim a city while a fallen hero tries to save a kingdom in decay. Meanwhile, the disgraced Captain Alucard Emery of the Night Spire collects his crew, attempting a race against time to acquire the impossible."
And finally, here's my review of the Shades of Magic trilogy!
I LOVED this series.
Without giving too much away, it's a very unique setting – there are four different Londons. Red, White, Grey, and Black. Each London has different characteristics, and special, rare magicians called Antari are able to travel between them.
The characters are lovable and unique, and their goals and challenges are full of believable, though incredible, twists and turns. It's an exciting series that reads quickly, but that's not all.
I think what I love most about this series is V. E. Schwab's beautiful writing. It's poetic, dramatic, and lyrical. Full of metaphor and imagery, the author paints an exquisite picture of a fantastic world and its people. It's an image I can't get out of my head, even a month after reading.
Other Great Stuff
The concept itself of these books is really awesome, as I've already mentioned.
I also love the physical design of these books. The whole series is really fluid and thematically well stitched together. The cover designs are gorgeous, as are the section and chapter dividers. I even loved the font more than I usually do.
Overall, 5/5 stars for all three of the Shades of Magic novels.
This is a fantastic take on magical worlds. I highly recommend it, for young and adult readers alike!
Pick it up as soon as you can and travel to a world with four Londons! Who wouldn't love that?!
Happy Reading!
– Paperback Patronus