Since posting about The Three-Body Problem on my Bookstagram, I've discovered that it's pretty hyped.
However, before that, when my book club, #thebreakfastbookclub, chose it as our April book, I'd never heard of it.
A Little Background on The Three-Body Problem
This book is science fiction and was originally written in Chinese. Kevin Liu translated the edition I read. It is the first in a trilogy. It's called The Remembrance of Earth's Past, and is wildly popular in China.
Here's the cover: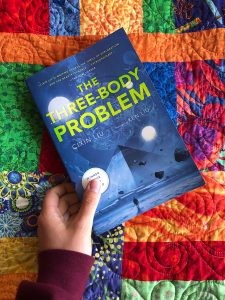 And here is the synopsis of The Three-Body Problem from Amazon:
"The Three-Body Problem is the first chance for English-speaking readers to experience this multiple award winning phenomenon from China's most beloved science fiction author, Liu Cixin.
Set against the backdrop of China's Cultural Revolution, a secret military project sends signals into space to establish contact with aliens. An alien civilization on the brink of destruction captures the signal and plans to invade Earth. Meanwhile, on Earth, different camps start forming, planning to either welcome the superior beings and help them take over a world seen as corrupt, or to fight against the invasion. The result is a science fiction masterpiece of enormous scope and vision."
Finally, here's my review of The Three-Body Problem!
This was a tough one for me. I didn't enjoy it very much, but that didn't mean it wasn't interesting.
I liked that the story was expansive, spanning the lifetime of a couple of characters and incorporating many other characters' stories along the way.  Also, the story's present-day time was a bit more futuristic than real-life 2018, which I found enjoyable.
The book also really made me think. The possibility of intelligent life living somewhere other than Earth is an existential one that is very absorbing.
However…
Over My Head, in More Ways Than One
First, I didn't understand a lot of the math and science in the book. The "Three-Body Problem" is a math problem that I understood the concept of. However, there was a lot of other science and math in the book. The text does explain it, just not in a way that made sense to me. And that made it hard to read.
Second, I have very little understanding of the Chinese Cultural Revolution, which was the historical time-period around which much of the story was based. I could definitely have done some research to make this more relevant to me. However, I was already having a hard enough time reading the book because of the math and science that I didn't want to put more effort into it.
Finally, I found the names of the characters, which were obviously all Chinese, to be very difficult to keep straight. This is a me problem, not a book problem, obviously. But it was just another thing that made this book a frustrating reading experience for me.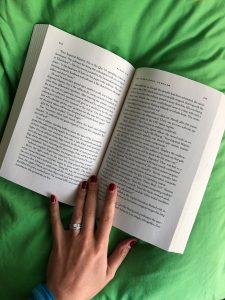 Overall, 2/5 stars for The Three-Body Problem.
I normally love sci-fi, but this was way too much. It is a really intriguing concept, but it fell short for me. I'd recommend it to people with a strong understanding of science and math, or a strong understanding of the Chinese Cultural Revolution. Or both. Otherwise, I'd skip it.
Happy Reading!
– Paperback Patronus
(Visited 148 times, 1 visits today)