Just Little Things: A Celebration of Life's Simple Pleasures is a lovely little book by Nancy Vu.
First, how did I discover this book?
I bought it as part of my Boxing Week haul. Indigo had a lot of graphically-based books, like Adultolescence and Quiet Girl in a Noisy World, on sale. This book was one of the ones in that class, and it caught my eye. Partly because of the title, and partly because of the colour.
Here's the cover of Just Little Things: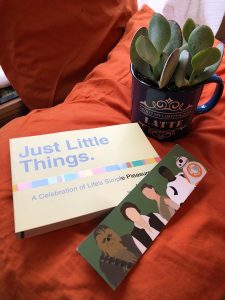 Pretty cute! I love the small bar of colours — the inside of the book is also very colourful.
Here is the synopsis of Just Little Things from Amazon:
"Seeing a baby yawn
Drawing on a foggy window
Finding a curly fry mixed in with your regular fries
These and 247 other little things that make everyday life a joy are collected in this delightful, surprising, and heartfelt book. Based on the popular website, this book will strike a chord in anyone who is open to celebrating the little moments of greatness all around us."
Finally, here's my review of Just Little Things!
This was a really lovely book. It's a quick read: I devoured it in one relatively short sitting. The whole time I was reading it, I just felt incredibly content. I found myself looking around the room, smiling at all the small things in my home and in my heart that make me feel warm and happy every day.
I find that especially in the winter, I often become overcome by the darkness and the wet, and I just wish I could sleep my days away under three duvets. This book really helped me remember all the things I love about my life, even when I haven't seen the sun in days (if you needed a reminder, I live in the Pacific Northwest in a temperate rainforest).
Other awesome stuff about this book:
I really liked the formatting. In case you haven't noticed yet from my earlier reviews, the physical feel, smell, look, and formatting of books can make or break my opinions about them. Also, I love pretty covers, and I love inventive and creative designs inside them.
Accordingly, this book does really well on the visual front. Each page has a full-colour background, and all of them are in varied colours. Then the "little thing" is written in big type, centered on the page. It's simple, bright, and easy to read.
Overall, 5/5 stars.
This was a quick, super-enjoyable read that really helped me to get back to regularly thinking about all the awesome little things in my life and how happy they make me. I highly recommend this book to anyone and everyone!!
Definitely happy reading!
– Paperback Patronus
(Visited 66 times, 1 visits today)