This month, the @theunreadshelf project's theme is "Finish That Series." I've taken it to heart. I started the month by finishing up the entirety of my first-ever read-through of A Series of Unfortunate Events. Then on my road trip to Calgary to see my dad and step-mom, I read 5 books, all of them sequels or parts of series. A Thousand Skies Above You, the book I'm reviewing in this post, is the second book in Claudia Gray's Firebird series.
Here's the synopsis of the book, pulled from Amazon:
"In this sequel to A Thousand Pieces of You by New York Times bestselling author Claudia Gray, Marguerite races through various dimensions to save the boy she loves.
Ever since she used the Firebird, her parents' invention, to cross through to alternate dimensions, Marguerite has caught the attention of enemies who will do anything to force her into helping them dominate the multiverse—even hurt the people she loves. She resists until her boyfriend, Paul, is attacked, and his consciousness is scattered across multiple dimensions.
The hunt for each splinter of Paul's soul sends Marguerite racing through a war-torn San Francisco, the criminal underworld of New York City, and a glittering Paris, where another Marguerite hides a shocking secret. Each dimension brings Marguerite one step closer to rescuing Paul. But with every trial she faces, she begins to question the one constant she's found between the worlds: their love for each other."
And here's the cover, which is just dazzling: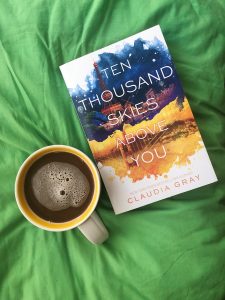 I read the first book in the Firebird series before I started book blogging. Funnily enough, it was during last summer's road trip to Calgary! But the cover is just as gorgeous for the first book as the second, so I figured I'd share a photo of that one here too: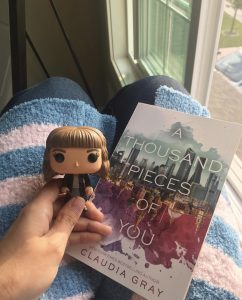 Finally, here's my review of Ten Thousand Skies Above You!
This book leaves right where A Thousand Pieces of You left off, in the thick of the action. And the excitement never lets up, making this a page-turner from cover to cover.
I thoroughly enjoyed the story itself, as well as getting to know many of my favourite characters from the first book, like Theo, Paul, and Marguerite's parents. And of course, Marguerite herself. It was so interesting to see how each character was different (or the same) in different aspects of their personalities across universes. Which brings me to my favourite part of the book – its theme.
Thematic Awesomeness
Ten Thousand Skies Above You gets right at what it means to be human, to be who you are, to be you. What is it that makes you who you are? Circumstances? Upbringing? The people who surround you? Marguerite, throughout this story, struggles with this idea as she encounters her friends and family in different dimensions. What is a soul? Are people inherently either good or bad? How can you reconcile differences across dimensions? Are people meant to find each other no matter what? I don't know the answers, but exploring them through this book was awesome.
Overall, 5/5 stars!
I highly recommend this story of love, loss, determination, and existential exploration.
Happy Reading!
– Paperback Patronus