Quiet Girl in a Noisy World: An Introvert's Story is a graphic novel by writer and illustrator Debbie Tung.
I love graphic novels and comic books, but I hadn't read any in a while, and this one reminded me why I love them so much! Before I get more into that…
Here's the cover of Quiet Girl in a Noisy World: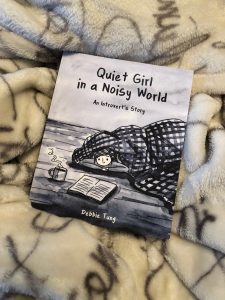 How CUTE?!?! How could I not buy this? It looks like my idea of heaven.
And here is the synopsis of Quiet Girl in a Noisy World: An Introvert's Story from Amazon:
"Sweet, funny, and quietly poignant, Debbie Tung's comics reveal the ups and downs of coming of age as an introvert.
This illustrated gift book of short comics illuminates author Debbie Tung's experience as an introvert in an extrovert's world. Presented in a loose narrative style that can be read front to back or dipped into at one's leisure, the book spans three years of Debbie's life, from the end of college to the present day. In these early years of adulthood, Debbie slowly but finally discovers there is a name for her lifelong need to be alone: she's an introvert.
The first half of the book traces Debbie's final year in college: socializing with peers, dating, falling in love (with an extrovert!), moving in, getting married, meeting new people, and simply trying to fit in. The second half looks at her life after graduation: finding a job, learning to live with her new husband, trying to understand social obligations when it comes to the in-laws, and navigating office life. Ultimately, Quiet Girl sends a positive, pro-introvert message: our heroine learns to embrace her introversion and finds ways to thrive in the world while fulfilling her need for quiet."
Finally, here's my review of Quiet Girl in a Noisy World!
As an introvert, this book was so relatable. I found a piece of myself on every page. It was a very comforting reading experience. The story covers many aspects of life – home, work, relationships, friends, and everything in between.
There's really nothing more for me to say other than that the story is beautiful, and the writing is beautiful. It's an all-around lovely graphic novel/comic book/ whatever you'd like to call it.
I'd recommend it especially for self-proclaimed or closet introverts. However, I think it is an equally important read for extroverts, who sometimes might not fully understand us introverts' need for quiet time in such a noisy world.
Other awesome stuff:
The art is adorable! Debbie Tung has a very distinct illustrating style that I love. It's simple, but not overly so, and there are still lots of adorable details.
Overall, 5/5 stars.
I LOVED THIS. I can't say enough good things about it!
Happy reading!
– Paperback Patronus
(Visited 85 times, 1 visits today)