The Smell of Other People's Houses is the first book by writer Bonnie-Sue Hitchcock.
Once again, this was a cover buy for me, but also a title buy. I've always had a slight fascination with the striking differences in the smell of people's homes.  Smells have always affected me strongly. Some can make me nauseated almost instantly. Others can make me cry, and still others make my throat close over (that part is because I'm allergic to a lot of smells). I really enjoyed the fact that this title actually ended up being integral to the plot of the novel. More on that later.
Now, I don't want to ruin the effect of first seeing the cover for you by telling you what it looks like, but I will say that it has stars on it, and generally anything with stars on it is an instant cover-buy from me.
So, here's this gorgeous cover I've been talking up: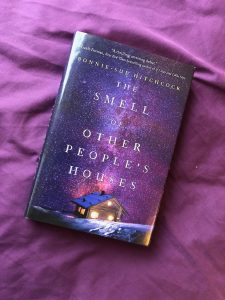 Now, before I get to what I think, here's the synopsis of the book, pulled from Amazon:
"This deeply moving and authentic debut set in 1970s Alaska is for fans of Rainbow Rowell, Louise Erdrich, Sherman Alexie, and Benjamin Alire Saenz. Intertwining stories of love, tragedy, wild luck, and salvation on the edge of America's Last Frontier introduce a writer of rare talent.
Ruth has a secret that she can't hide forever. Dora wonders if she can ever truly escape where she comes from, even when good luck strikes. Alyce is trying to reconcile her desire to dance, with the life she's always known on her family's fishing boat. Hank and his brothers decide it's safer to run away than to stay home—until one of them ends up in terrible danger.
Four very different lives are about to become entangled. This unforgettable William C. Morris Award finalist is about people who try to save each other—and how sometimes, when they least expect it, they succeed."
Finally, here's my review of
The Smell of Other People's Houses!
Reading this book was an interesting experience in terms of the meta-thought processes that were going on.
Now that I've started reviewing every book that I read, I find myself taking time between reading sessions (or while I'm reading) to think about what I would rate it at any given point.
When I started The Smell of Other People's Houses, I was thinking I'd probably give it a 3. Pretty unusual for me; I tend to love absolutely everything I read and it's usually a decision between 4 and 5. While this is relevant to the conversation now, I figure it is also important to let my readers know early on that I'm unlikely to dislike a book and my star ratings might not be terribly helpful. However, by the end of the book…
I was enamoured.
I tend to love novels that include several disparate characters' perspectives whose connections aren't obvious until they come together by divine providence or magical happenstance or for a really stupid reason or for no reason at all or for some combination of all the above reasons. This one was no different. Hitchcock artfully stitches together the characters' stories, slowly and carefully, with just the right amount of suspense. Even better, the ending was perfect and didn't feel contrived.
Other Noteworthy Stuff
First, I get a bit uncomfortable when I realize that a white person is writing about Aboriginal experiences, but Bonnie-Sue Hitchcock was born and raised in Alaska and consulted several authentic voices on this subject. Also, this was by no means purported to be a true or authentic story; further, from my (admittedly white) perspective, it does feel as though she's tried to be as truthful as possible, without romanticizing or glazing over the difficult aspects of Aboriginal life as they were in the setting of the book.
That being said, there was some really beautiful symbolism at work in this text. I feel as though saying too much more would be a spoiler. So, I'll just leave this topic by saying that I think the main symbols in this book are artfully interwoven. They really made the story that much more magical.
Finally: I can't believe I haven't talked about it yet. The author crafts the theme of smell wonderfully and explores it with great detail throughout the text. It definitely supports the symbolism as the base layer for the tons of beautiful imagery threaded throughout the text.
Overall, 4.5/5 stars.
Slightly difficult to get in to. Absolutely enrapturing after a little while, and a stunning ending to knit all the narrators' stories together.
Happy reading!
– Paperback Patronus
(Visited 177 times, 1 visits today)