The Hate U Give is the first novel by author Angie Thomas.
This book was definitely a recommendation buy. Everyone on my Bookstagram has been talking about it for a while. I also don't read enough diverse books, so I felt that this was a good place to start.
Here's the cover: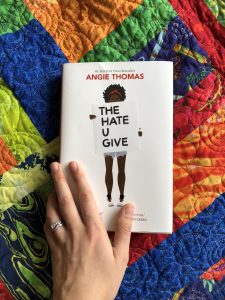 Here is the synopsis of The Hate U Give from Amazon:
"Sixteen-year-old Starr Carter moves between two worlds: the poor neighborhood where she lives and the fancy suburban prep school she attends. The uneasy balance between these worlds is shattered when Starr witnesses the fatal shooting of her childhood best friend Khalil at the hands of a police officer. Khalil was unarmed.
Soon afterward, his death is a national headline. Some are calling him a thug, maybe even a drug dealer and a gangbanger. Protesters are taking to the streets in Khalil's name. Some cops and the local drug lord try to intimidate Starr and her family. What everyone wants to know is: what really went down that night? And the only person alive who can answer that is Starr.
But what Starr does—or does not—say could upend her community. It could also endanger her life."
Finally, here's my review of The Hate U Give!
This is a difficult one for me to talk about. Not because I didn't like it. I adored it.
However, it talks about a lot of things that I don't feel that I can speak to. That I don't think I have the right to speak about. Racism. Police brutality. Race in general.
I could say that it felt authentic to me, that it felt like a realistic and fair portrayal of the community it is based in. I could say that it must be because Angie Thomas is black. But as a white woman, what right do I have to say what is authentic to a community other than my own? None.
Yes, I can have an opinion on those things. I am not a racist. I think that police have been too strongly racially profiling people and that even if it's subconscious, they often target people of colour. However, I am not a person who can speak for communities of people of colour.
What I can talk about is how it affected me. And it affected me deeply. This book made me uncomfortable. Good uncomfortable. Uncomfortable that I don't know how to talk about these issues without seeming like I'm trying to speak for people.  It made me angry. Angry about the injustice that people in these communities experience daily. It made me sad. I felt motivated to act, but also terrified about making a choice to act with the wrong intentions.
This book definitely left me with a lot to think about.
Other Awesome Stuff
This book had great characters. Some were likeable, some were not. And that was a good thing. The characters that were not so nice were great examples of the things that non-marginalized groups can do unintentionally that are harmful.
This book was also suspenseful. I'm not going to spoil the major conflicts in the story, but they're very interesting, seem realistic, and are not easily resolved.
Overall, 5/5 stars.
This was an amazing read, and I highly recommend it for readers in their teens and up.
Happy reading!
– Paperback Patronus
(Visited 67 times, 1 visits today)