Rebel of the Sands is the first novel by author Alwyn Hamilton. It is the first in a trilogy. Book two is Traitor to the Throne, and book three is Hero at the Fall.
This book was definitely a cover-buy for me.
When I tell you more of the cover story, you'll see why that's kind of coincidental.
Here's the (UK) cover of Rebel of the Sands, which is STUNNING. I only just found out that it's the UK cover, more on that later…
Here is the synopsis of Rebel of the Sands from Amazon:
"Mortals rule the desert nation of Miraji, but mythical beasts still roam the wild and remote areas, and rumor has it that somewhere, djinn still perform their magic. For humans, it's an unforgiving place, especially if you're poor, orphaned, or female. Amani Al'Hiza is all three. She's a gifted gunslinger with perfect aim, but she can't shoot her way out of Dustwalk, the back-country town where she's destined to wind up wed or dead.
Then she meets Jin, a rakish foreigner, in a shooting contest, and sees him as the perfect escape route. But though she's spent years dreaming of leaving Dustwalk, she never imagined she'd gallop away on mythical horse—or that it would take a foreign fugitive to show her the heart of the desert she thought she knew.
This startlingly original Middle-East-meets-Wild-West fantasy reveals what happens when a dream deferred explodes—in the fires of rebellion, of romantic passion, and the all-consuming inferno of a girl finally embracing her power."
Finally, here's my review of Rebel of the Sands!
This book was great!
First, the character development was really well done. Characters seemed realistic and had complex flaws. They also had interesting relationships with others.
I also really enjoyed the world-building and setting. It's certainly unique: as the Amazon review states, it's "Middle-East-meets-Wild-West" and I couldn't put it better. This is a far different world than anything I've read in a book recently, which was refreshing.
Finally, it's just a really fun, exciting read. The plot is full of twists and turns, and doesn't feel too fantastical that I have to shelve my disbelief while reading. I definitely appreciate when it feels like the plot is actually mostly realistic.
As an added bonus, the ending didn't feel like too much of a cliffhanger, even though it did set up the next book nicely. Bonus!
Now, about those covers…
I ordered my copy of Rebel of the Sands from Book Outlet. I received what I didn't know was the UK cover. When books 2 & 3 in the trilogy started popping up on Bookstagram (people have been receiving ARCs (Advance Reader Copies) of book 3 recently), I went to Indigo to order book 2.
That's when I found this.
Ew. My Bookstagram followers agree by a landslide, here's the results of a recent poll I put up in my Story: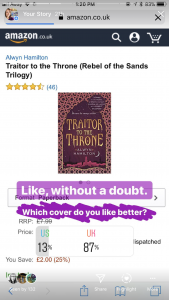 When I first saw the North American cover, I was worried that publishers changed the covers mid-series, but I figured out pretty quick that the UK/AUS covers were still nice. Here's book 2 (Traitor to the Throne) on Amazon. The only problem is that they seem to only be available in paperback in that format. Normally this wouldn't be a problem (I am Paperback Patronus, after all), but when I got Rebel of the Sands from Book Outlet, they only had it in hardback. Sigh. Mis-matched series frustrate me.
Anyway, with all that said: overall, 5/5 stars.
This was a really fun, suspenseful, action-packed read. The world-building was really great, and I also liked the character development. I highly recommend it, and hope that the other two books in the series are just as enjoyable!
Happy reading!
– Paperback Patronus
(Visited 87 times, 1 visits today)