You may have seen on my Instagram that on a recent post I was asking for questions that I could answer here on my blog!
I did both a poll in my Stories and a Q & A image post to come up with questions to answer for you so you could get to know me a little better!
In the poll, I had viewers vote between sets of questions that I would answer. So, in this post, I'll show what the two options were, which won, and my answer to the winning question.
On the image post, I had viewers submit questions they would like me to answer, so I'll include those and answer them as well!
Ready? Let's go!
Stories Questions!
Q: Favourite colour or food?
Winner: Food
Answer: First, chocolate, definitely chocolate. Second, yellow curry. It's a very close call.
Q: Favourite book or movie?
Winner: Book (As if I expected anything other than book from my fellow book worms!)
A: Harry Potter and the Philosopher's Stone. You can't beat that discovering-you're-a-wizard-hogwarts-for-the-first-time-new-friends-magical feeling of the first book.
Q: What do I do for work or for fun?
Winner: Fun
A: I spend a lot of my time reading (surprise) but I also train for half-marathons, play Counter Strike and Nintendo Switch with my husband, coach girls' rugby, write, bullet journal, hang out with my best friend Joy, visit coffee shops, and attend book club!
Q: Where do I live or want to travel?
Winner: Want to travel
A:  There are so many places I want to travel to! I think the top few are New Zealand, Iceland, Australia, Ireland, Scotland, Peru, and Greece. I've been to many places in Europe and have family there, and I've also done a lot of traveling in Canada and the US.
Q: Favourite quote or dedication?
Winner: Quote
A: My favourite quote is, embarrassingly, from a book I haven't read (yet!). It's from Captain Corelli's Mandolin, by Louis de Bernières, and it's translated into English from the original language (French):
"Love is a temporary madness. It erupts like an earthquake and then subsides. And when it subsides you have to make a decision. You have to work out whether your roots have become so entwined together that it is inconceivable that you should ever part. Because this is what love is. Love is not breathlessness, it is not excitement, it is not the promulgation of promises of eternal passion. That is just being "in love" which any of us can convince ourselves we are. Love itself is what is left over when being in love has burned away, and this is both an art and a fortunate accident. Your mother and I had it, we had roots that grew towards each other underground, and when all the pretty blossom had fallen from our branches we found that we were one tree and not two."
Q:  Favourite short story or poem?
Winner: Short story
A: This is a tough one. I tend not to like short stories. They usually frustrate me. I think this would have to be a tie between "The Lottery," by Shirley Jackson, and "The Pedestrian," by Ray Bradbury.
Q: What makes me laugh or cry?
Winner: Laugh
A: I really love funny animal videos and images, like this one of  coatis, this one of Sail Cat, and this one of a puppy, because I love animals and cute things in general. My husband makes me laugh a lot, and so does being tickled (even though I hate it) and funny movies like Pitch Perfect. OH! And the We Rate Dogs twitter account. And the Wait Wait Don't Tell Me NPR podcast.
Q: Favourite holiday or weekday?
Winner: Holiday
A: Definitely Christmas! I think it has a lot to do with often having family close by, and it being a holiday in Winter means that I can cozy up in pjs and thick socks with a fire going and a hot mocha in my hands. I also love the food that comes with Christmas – Terry's chocolate oranges and turkey dinner in particular!
Q: Favourite singer or band?
Winner: Band
A: I'm not-so-secretly excited that you all chose band, because I have a lot more favourite bands than singers. Phew! I've got two that are pretty closely tied, but I think that the winner has to be Maroon 5. I've loved them for as long as I can remember, and my husband and I have listened to their music together since we started dating in 2006. We've seen them in concert twice. My second favourite band is Hedley. I will be seeing them for the third time in February!
Q: What do I love or hate?
Winner: Love wins! (Just had to get that plug in there.)
A: I really love a lot of things. If there's one thing that's been true for my whole life is that I'm very enthusiastic about a lot of things. For that reason and many others, this list is in no particular order.  Being cozy, coffee (holiday flavoured lattes especially), fuzzy socks, blankets, pillows, books, funko pops, the sun, running, rugby, art, writing, journaling, trees, the ocean, dogs, animals in general, Harry Potter, the forest, my family, my friends, and my husband. Again, this list is by no means exhaustive, because I love a lot of things.
Q: What's on my bucket list or to-do list?
Winner: Bucket list
A: Number one on my bucket list (to my husband and parents' chagrin) is skydiving. It fell through for me a couple of years ago when everything had been all planned and I haven't managed to get it going again since. Another thing on my bucket list is to write a novel. For now, the last thing that's on my list that I'll share is to run a half marathon in under 2 hours.
Image Post Questions!
Q: How many books and funko pops do you have? (Submitted by @My Book Bubble, thank you!)
A: This took me a long  time to figure out. I have about 265 funko pops.  I say about because I'm sure there's human error in there somewhere. Same goes for the books. They are hard to count!! In Vancouver, I have about 545 books. I live in Vancouver now, but I grew up in New Brunswick with my mom, so many of my books are still there in my childhood bedroom. I'll have to count them the next time I'm there. Needless to say… it's a lot.
Q: Which book are you most looking forward to in 2018? (Submitted by Marcus Henson, @mhensonofficial, thank you!)
A: Definitely Obsidio, by Amie Kaufman! I really loved both Illuminae and Gemina! For those who don't know, the series is called The Illuminae Files!
Finally, here's my favourite shelfie so you know what I look like!
(shelfie = selfie + shelf)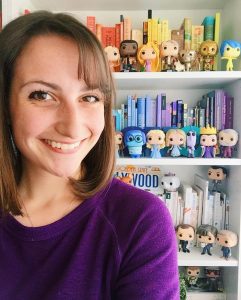 That's a wrap on my first Q & A!
Thanks for reading and getting to know a bit more about me! Also, thanks also to those who answered my stories polls and sent in original questions! Finally, if there's anything else you'd like to know about me that I could answer in a future Q & A blog post, please let me know in a comment below or by sending me a DM on Instagram!
In love and books,
Paperback Patronus